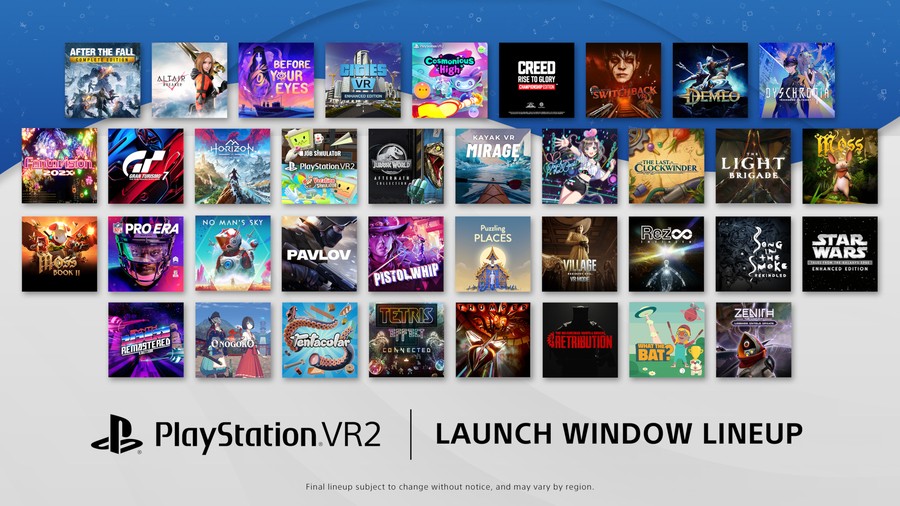 Sony has confirmed the full list of 37 upcoming games PSVR2 Starting from its launch date on February 22nd. The "release window" lineup has something for everyone, and should help solidify the platform's niche right out of the gate.
We've known about most of these titles for a while — Sony previously said more than 30 games would be available around launch — but there are a few new faces in the mix, as well as a handful of software upgrades from the original. . PSVR.
Here's the full list posted by PlayStation:
After the Fall (Vertigo Games)
Altair Breaker (3rd)
Before Your Eyes (Skybound Interactive, Launch Window)
City VR (Fast Travel Games)
Cosmic High (Oulchemy)
Creed Rise to Glory: Championship Edition (Servios, Launch Window)
Dark Pictures: Switchback (Supermassive, Launch Window)
Demeo (Resolution Games)
Dyschronia: Chronos Alternate (MyDearest Inc., Perp Games)
Fantavision 202X (Cosmo Machia, Inc.)
Gran Turismo 7 (via free update for the PS5 version of GT7)
Mountain Horizon Call (Firefrite, Guerrilla)
Job Simulator (Oulchemy)
Jurassic World Aftermath (coatsync)
Kayak VR: Mirage (Better Than Life)
Kizuna AI – Touch the Beat! (Gemdrops, Inc.)
The Last Clockwinder (Pontoco/Cine Worlds)
Light Brigade (Funktronic Labs, purchase includes PS VR and PS VR2 versions)
Moss 1 and 2 Remaster (Poliarch)
NFL Pro Era (StatusPro, Inc., Free PS VR2 Upgrade)
No Man's Sky (Hello Games, Launch Window)
Pavlov VR (Vancrypt)
Pistol Whip (Cloudhead, Free Upgrade)
Confused Places (Realities.io, free upgrade)
Resident Evil Village (via Capcom, free update for PS5 version of RE Village)
Rez Infinite (Increasing)
Song in the Smoke (17 bit)
Star Wars: Tales from the Galaxy's Edge (ILMxLab)
Synth Riders (Cluj Interactive, Free Upgrade)
The Story of Onogoro (Amata KK)
tentacular (devolver)
tetris effect (enhanced)
Thumper (Drool LLC)
The Walking Dead: Saints and Sinners: Ch. 2: Revenge (Skydance, Launch Window)
Vacation Simulator (Owlchemy)
Ki Balla (Triband)
Zenith: The Last City (Ramen VR, Free Upgrade)
It's a pretty strong lineup on paper, isn't it?
And to be clear, Sony says the lineup "release window" runs through March 2023, so all of these games are expected to be out in and around the first month of PSVR2's launch.
What do you make of this choice? Are you excited for PSVR2? Take a break and remember in the comments section below.
[source blog.playstation.com]