37-year-old singer Jake Flint died hours after his wedding, the newly married wife wrote a touching post!
Mumbai: There is sad news from the Hollywood industry. Famous singer Jake Flint, 37, has died. After a few hours of marriage, Jake said goodbye to the world. The saddest thing is that the singer got married on November 26, fell asleep after the wedding and never woke up again. Family friends and newly married wife Brenda Flint are deeply saddened by the passing of Oklahoma resident Jake Flint. However, the cause of the singer's death has not been clarified. Fans are heartbroken by the singer's death and pay their respects by remembering their favorite singer.
Jake Flint's publicist, Cliff Doyle, confirmed Singer's death. According to Cliff, "Jake Flint passed away in his sleep on Saturday, November 26, just hours after his wedding to Brenda." Brenda, wife of Hollywood singer Jake Flint, is shocked by the sudden disappearance of her husband. It is very painful to separate from your life partner just hours after getting married.
I want that back!
Brenda Flint, inconsolable, wrote a touching post on Facebook. She writes: "We should have seen our wedding photos now, but instead I have to think about what clothes to bury my husband in. People shouldn't suffer so much. My heart is gone, I need it. I want him back, I can't stand it. I want it back'. Expressing their grief over this message from Brenda, people are praying to God.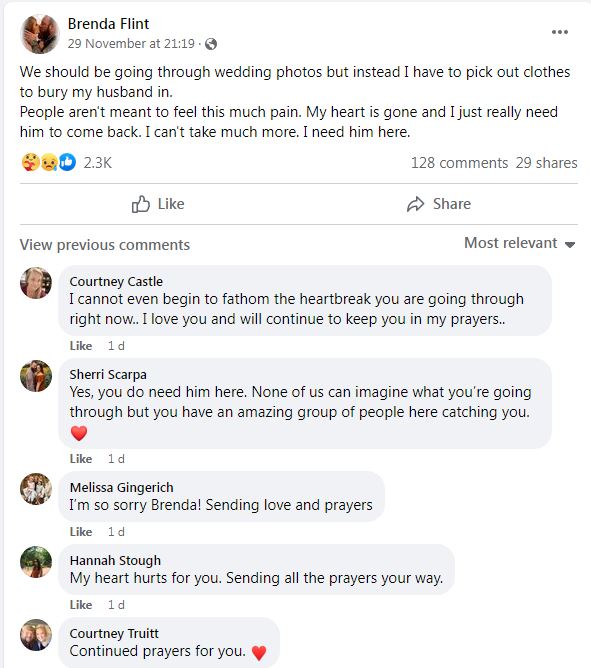 (Photo credit: Brenda Flint/Facebook post)
Former manager Brenda Kline treated the singer like a son.
Jake Flint's friend and former manager Brenda Kline is also saddened by the singer's sudden passing. Brenda said Jake Flint was like a son to her. Singer's death is a great tragedy. Condolences are sent to the family and friends of Jake Flint.
First read latest news in America News84Media America | Read today's latest news, live updates, the most trusted America news website, News84Media America.
Tags: hollywood, singer
FIRST POST: December 01, 2022, 1:53 PM IST
,