Death of Aaron Cartor: Rapper-singer Aaron Carter died at the age of 34, a body found in the bathroom of the house
Mumbai. Popular singer, rapper and actor Aaron Carter has died. He was the brother of Nick Carter, a member of the band 'Backstreet Boys'. He was 34 years old. According to reports, he was found dead on Saturday morning in the bathroom of his home in Lancaster, California. "It's a really bad time right now, we're trying to figure out what happened and what caused it," a rep for Aaron's team said, TMZ reported.
The rep added, "We are as disturbed as everyone else and hope the fans are praying for him and comforting his family." Shortly after news broke of Aaron Carter's death, singer Tyler Hilton took to Twitter to call it "heartbreaking." He prayed for his soul to rest in peace and made a long tweet.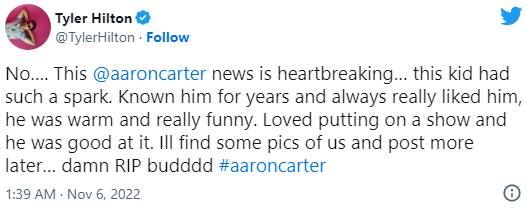 Singer Tyler Hilton is in mourning. (Photo credits: Twitter)
Tyler Hilton wrote: "No…this Aaron Carter news is heartbreaking…There was a lot of spark in this kid. I had known him for years. Everyone always liked him very much, he was jovial and funny. He loved to put on a show and he was good at it. I'll find pictures of us and post them later… sad… RIP man.
Be the first to read the latest news in America News84Media America | Today's Breaking News, Live Updates, Read Most Trusted America News Website News84Media America |
FIRST POST: November 06, 2022, 10:39 AM HST
,