Death of John Aniston: John Aniston, father of Jennifer, famous for 'Friends', has died, the actress shared pics and wrote a touching note
Mumbai. Death of Jennifer Aniston's father: Hollywood actress Jennifer Aniston's father and actor John Anthony Aniston have died. Jennifer played the character of Rachel Green on the popular TV show "Friends". Jennifer shared several photos with her father on her Instagram account and revealed that she lost her father on November 11. He also wrote a moving post sharing photos of his late father. In her message, she expressed her sorrow over her father's departure and said she would continue to love him until his last moment.
Jennifer Aniston wrote, "Dear Daddy…John Anthony Aniston." You were one of the most beautiful human beings I have ever known. I am very grateful that you left this world peacefully and painlessly and went to heaven. And 11/11 no less! You always had perfect timing. This number will always mean more to me."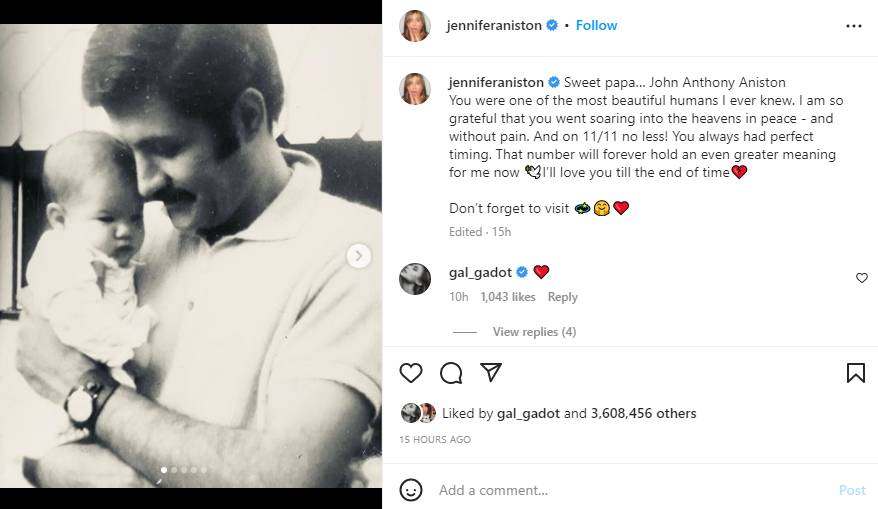 Jennifer Aniston wrote an emotional message. (Photo courtesy: Instagram @jenniferaniston)
Jennifer Aniston added, "I will love you until the end of my life." He also included broken heart emojis in his emotional note. As soon as Jennifer shared the information about her father's death on social media. Fans began to pray for peace in her soul and made heartwarming comments for Jennifer.
Jennifer Aniston with her father John Anthony Aniston. (Photo courtesy: Instagram @jenniferaniston)
Not only that, Jennifer Aniston's friends and Hollywood celebrities have also expressed their grief. Wonder Woman celebrity Gal Gadot commented on a heart emoji. Actor Rove Lowe wrote in the comment with a heart emoji, "Sending lots of love." Actress Ashley Benson also commented with a heart emoji. Apart from that, many other celebrities also expressed their condolences.
Let me tell you, Jennifer's father, John Aniston, was also an actor, best known for his role as Victor Kiriakis in Days of Our Lives (1985). His role was well received and he was even nominated for the "Daytime Emmy Award" for Outstanding Supporting Actor in a Drama Series in 2017.
Read the latest news in America for the first time News84Media America | Read today's latest news, live updates, the most trusted America news website, News84Media America.
Tags: hollywood, Hollywood stars
FIRST POST: November 15, 2022, 10:49 a.m. HST
,