Famous actor of Diary Of A Wimpy Kid Ryan Grantham sentenced to life imprisonment, his mother was shot dead
Mumbai: Ryan Grantham, famed 'Diary of a Wimpy Kid' and 'Riverdale' actor, has been sentenced to life in prison for shooting and killing his mother. Grantham, best known for his role in Diary of a Wimpy Kid, shot and killed his mother, Barbara White, in March 2020. However, even before that, Ryan had conspired to kill his mother, but after failing in his attempt, he again plotted to kill his mother.
When Grantham's mother was playing the piano, he targeted her and shot her in the back of the neck, killing Grantham's mother. When Grantham first attempted to kill his mother, he also recorded video of the entire incident. The 24-year-old actor has just been convicted of murdering his mother.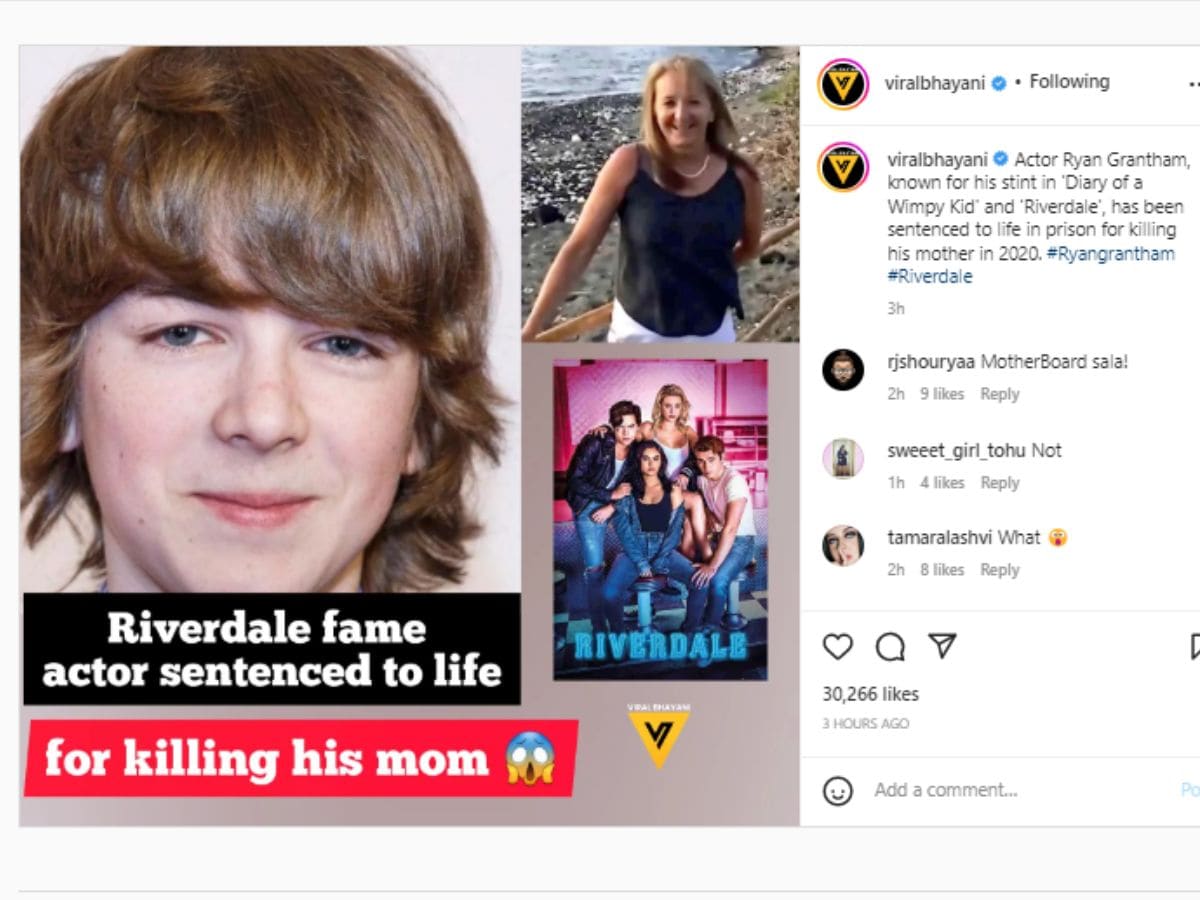 Ryan Grantham is best known for his role in Diary of a Wimpy Kid. (Photo credits: Instagram: @viralbhayani)
The actor was sentenced to life in British Columbia Supreme Court in Vancouver on Wednesday. Sentenced to prison. According to the CBC Canada report, Grantham will not be eligible for parole for 14 years. The actor of Netflix's Riverdale fame also conspired to kill his country's prime minister.
When police arrested Ryan after the murder of his mother, a map of Canadian Prime Minister Justin Trudeau's house was also found in his car, along with three weapons, ammunition and 12 Molotov cocktails. From where the police learned that Ryan wanted to kill Prime Minister Justin Trudeau after the murder of his mother. But, before he could do so, he was arrested by the police. Now the court has sentenced Ryan, after which he will have to remain in prison for the rest of his life.
Be the first to read the latest news in America News84Media America | Today's Breaking News, Live Updates, Read Most Trusted America News Website News84Media America |
Keywords: Hollywood, Hollywood stars
FIRST POST: September 23, 2022, 4:18 p.m. HST
,