Kim Kardashian bought Princess Diana's necklace at auction, bid the highest, you'll be shocked to know the price!
Mumbai. American reality TV star and model Kim Kardashian bought Princess Diana a necklace. He bought this necklace at auction. According to auction house Sotheby's, this necklace was made by British jeweler Garrard in 1920. It was to have been sold in London in the year 162,800 in London. Four bidders had bid in the auction, but in the last 5 minutes Kim Kardashian bought it from Sotheby's with the highest bid. This necklace was worn by the late Princess Diana. Now it has become Kim Kardashian.
Kim Kardashian bought it for around $197,453. The cost of this diamond set sapphire Attallah cross necklace is around INR 1.6 crore in Indian rupees. Christian Spofforth, Head of Jewelery at Sotheby's London, said: "Jewellery belonging to or worn by the late Princess Diana is very rare on the market, especially a piece like the Attallah Cross, which is so colourful, bold and special."
Christian Spofforth said: "It is a bold piece of jewelery in shape, color and style. Whether for faith or fashion – or really both. We are delighted that this has had the opportunity to pass into the hands of a world renowned name. Princess Diana also wore the pendant to a charity gala in 1987.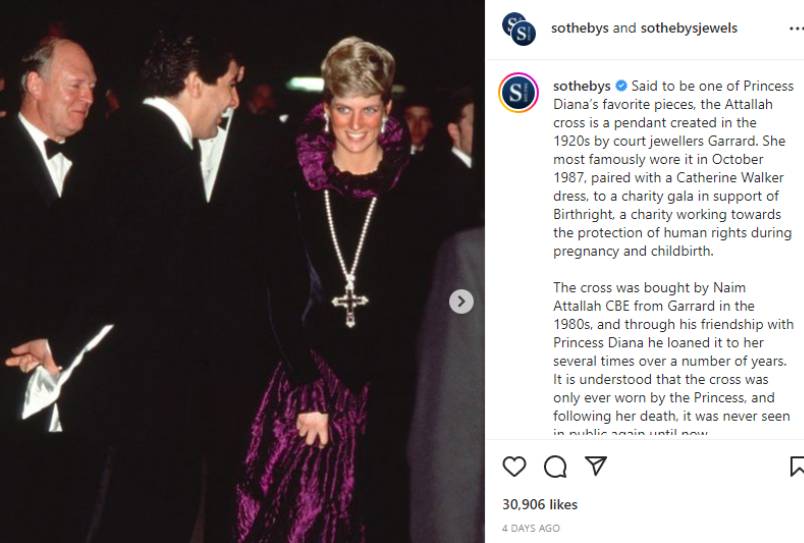 Princess Diana attends the gala. (Photo courtesy: Instagram @sothebysjewels)
The auction house said the necklace sold for nearly double the estimated price. Let us tell you that Kim Kardashian likes to buy such historical things. He also bought a Marilyn Monroe dress at auction and also attended the Met Gala wearing it. This Marilyn dress was special because she wore the same dress in 1962 on the birthday of US President John F Kennedy.
Princess Diana died in a car accident in 1997 aged 36. Princess Diana was also the most popular woman in the British royal family.
Read the latest news in America for the first time News84Media America | Read today's latest news, live updates, the most trusted America news website, News84Media America.
Tags: kim kardashian
FIRST POST: January 19, 2023, 1:35 p.m. HST
,