Priyanka Chopra stepped out to show her beloved Malti Mary the Christmas lights, Nick Jonas commented on the action
Mumbai: Priyanka Chopra Went on vacation with her husband Nick Jonas and her daughter Malti Marie. Priyanka shared her trip a few days ago by sharing a photo in front of the aquarium. Now, by sharing three photos, Priyanka has shown a glimpse of her vacation in New Jersey. It's the first Christmas party for Priyanka and Nick's daughter, Malti, so the actress is very excited and seems to be enjoying the moment, while seeing Nick's attitude, Priyanka pulled in a funny way.
Priyanka Chopra shared three snaps on Instagram. In two photos, she is seen showing off colorful Christmas lights with her daughter Malti. Malti's face is visible from the side in a yellow knitted woolen cap. While Priyanka and Nick are seen in a single photo. While Priyanka takes a mirror selfie, Nick is engaged in his cellphone, his head tilted into the frame.
Nick isn't interested in Priyanka's mirror selfie
Priyanka Chopra is very cute in her black and white winter outfit. The global actress shared these photos and wrote "Perfect Winter Days" in the caption. Along with that, while commenting Nick wrote that in the first photo, "My husband is really interested in the mirror selfie".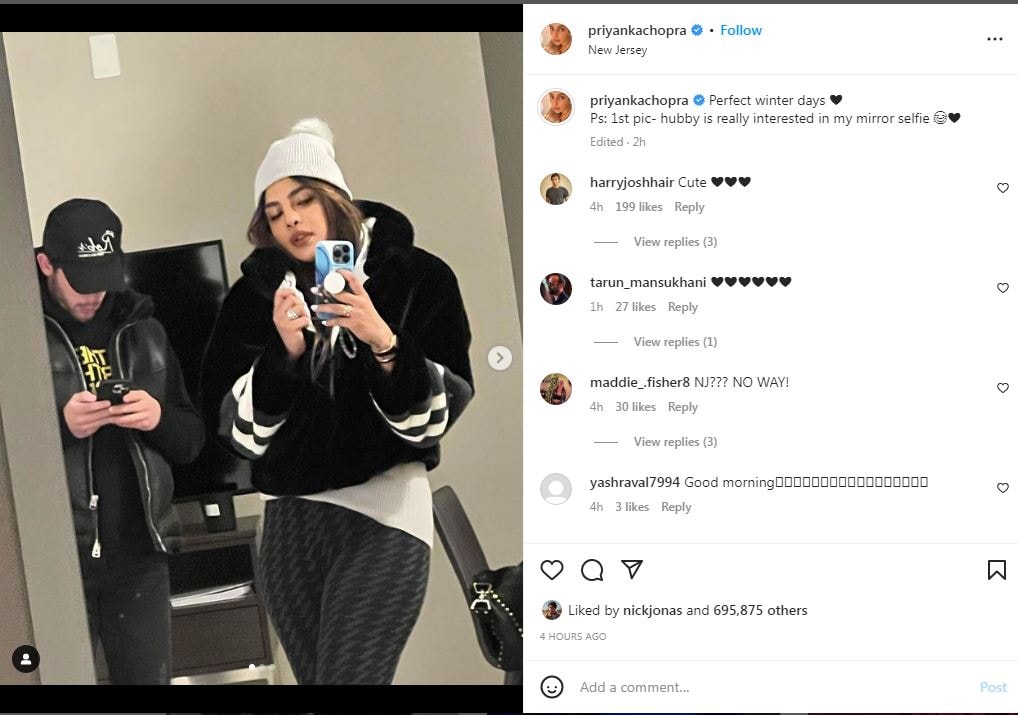 (Photo courtesy: priyankachopra/Instagram)
read this too – Priyanka Chopra's shocking revelation about her ex-boyfriend, feel free to say – 'Even after the breakup…'
Fans are raving about these family photos of Priyanka Chopra, saying 'First beautiful Christmas memory' and 'Perfect couple'. On the other hand, this Christmas is special for Priyanka and Nick, because this year they became parents through surrogacy. In such a situation, this time a special Christmas celebration is going to take place. Priyanka's daughter will be one year old in January. Fans are eager to see Malti's full face, Malti's full face is expected to be seen on the first birthday.
First read latest news in America News84Media America | Read today's latest news, live updates, the most trusted America news website, News84Media America.
Tags: Nick Jonas, Priyanka Chopra
FIRST POST: December 20, 2022, 11:46 p.m. HST
,