Priyanka Chopra took her daughter Malti Mary toy shopping, bought toys, fans asked questions, "What did you buy?"
Mumbai: Bollywood actress Priyanka Chopra has become a global icon. The more attention she pays to her work, the more she takes care of her family. She never forgets to make time for her family despite her busy schedule. We continue to get this insight from time to time through social media. Once again we get to see something like this. Recently, Priyanka went shopping with her daughter Malti (Priyanka Chopra Toy Shopping).
Priyanka is busy promoting all her projects but despite being busy, she takes full care of the family. On Saturday he took time for his daughter Malti and enjoyed shopping with her. Both Priyanka and Nick Jonas try to give their daughter as much time as possible. Meanwhile, they both went toy shopping with their daughter in New Jersey.
Priyanka Chopra also shared shopping photos on her Instagram social media account. We can see in the first photo that Priyanka is holding her daughter Malti on her lap and she is in the toy section. Looking at the photo, we can guess that she is selecting toys for her daughter Malti.
Priyanka wears a gray colored top and along with it she also wears a cap. While the little princess Malti wears a pink dress. In the second photo shared by Priyanka, Malti can be seen playing with toys in her house. Sharing the photo on Instagram, Priyanka wrote, "Saturday well done" along with many emojis that were also shared.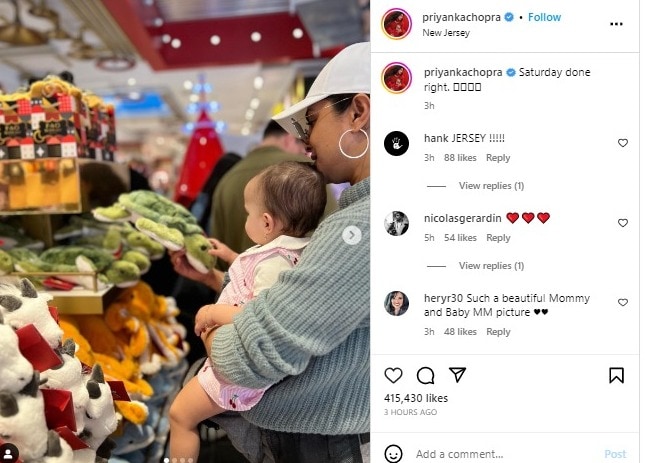 Priyanka Chopra also shared photos of her daughter Malti performing. (Photo courtesy: Instagram: @priynkachopra)
Let us tell you that Priyanka Chopra and Nick Jonas got married in December 2018. In January 2022 he became a parent. Priyanka became a mother through surrogacy. Her daughter Malti spent about 100 days in the NICU before returning home.
Read the latest news in America for the first time News84Media America | Read today's latest news, live updates, the most trusted America news website, News84Media America.
Tags: bollywood, Entertainment, Hollywood, Priyanka Chopra
FIRST POST: May 07, 2023, 2:16 p.m. HST
,