Sienna Weir: Miss Universe finalist, 23, died, accident happened while riding, model was on life support
Mumbai. Sienna Weir death news: Model Sienna Weir, who was the runner-up for Miss Universe 2022, has died. She was 23 years old and resided in Australia. Sienna was seriously injured in an accident while horse riding last month. She was horseback riding on April 2 at the Windsor Polo Ground in Australia. He had serious injuries. Due to deep injuries, he was placed on life support. He was removed on May 4 after being on a ventilator for about 1 month.
Sienna Weir's boyfriend and family have shared information about the model's disappearance. Sienna's family had decided to take her off the ventilator. Sienna's boyfriend Tom Bull confirmed her death on Instagram. Sharing a beautiful photo of Siena, he wrote, "We made love with a lot of love, which was more than love."
Sienna Weir's modeling agency, Scoop Management, shared some photos of the model in a post. Sharing them wrote, "Forever in our hearts." Let me tell you, Sienna was one of the 27 finalists in the Australian Miss Universe 2022 pageant. He studied English Literature and Psychology. He had also planned to go to Britain to make his career.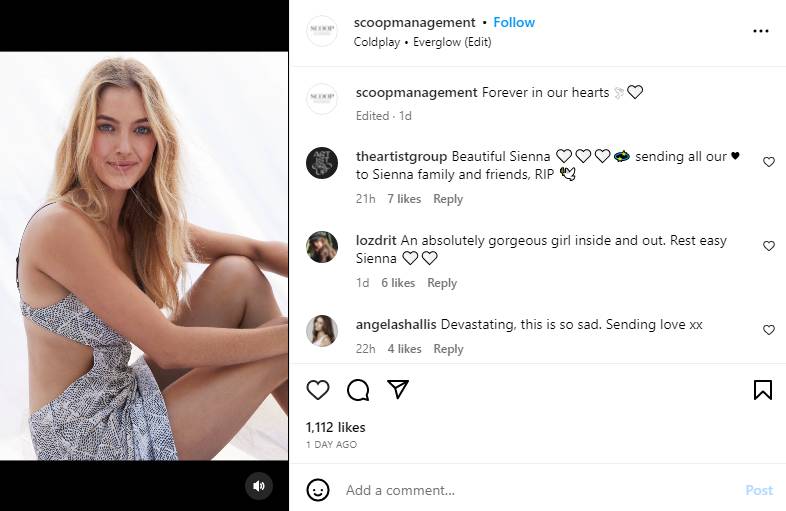 Fans are mourning the death of Sienna Weir. (Instagram screenshots)
Sienna Weir has been riding since the age of 3
Sienna Weir loved horseback riding. He said in an interview with Gold Coast Magazine: "Having lived most of my life in the city, I have a deep and undying love for show jumping. My family doesn't know where I discovered this hobby, but I've been riding since I was 3 years old and I can't imagine my life without it."
Sienna Weir competing in an equestrian competition
Sienna Weir added: "I travel every weekend to New South Wales or across Australia as well as rural Sydney 2-3 times a week to train and compete." Due to the passing of Sienna Weir, there is an atmosphere of sadness among her family, friends and fans. People are paying tribute to him on social media.
Read the latest news in America for the first time News84Media America | Read today's latest news, live updates, the most trusted America news website, News84Media America.
Tags: miss universe
FIRST POST: May 06, 2023, 2:33 PM IST
,