What's going on between Diljit-Taylor? Singer breaks silence on dating rumors
New Delhi. Punjabi singer Diljit Dosanjh is making headlines these days after Pange with Kangana Ranaut and his songs. Diljit Dosanjh, who has gained worldwide fame with his talent, is making headlines these days not for his professional life but for his personal life. There are talks that Diljit Dosanjh has fallen in love with the foreign singer and is dating her. It's not us as one report claims. When the talks escalated, Singer tweeted, but deleted the tweet after some time. Now fans are asking questions by sharing their screenshots.
Punjabi singer Diljit Dosanjh and famous American singer Taylor Swift were seen getting very 'touching' together at a restaurant. As soon as this news spread, he also reacted on Twitter, but deleted the tweet after a while, after which fans question him and ask what the problem is.
Where were Taylor Swift-Diljit spotted together
In fact, according to the News British Columbia report, Diljit was seen with Taylor Swift at the Cactus Club Cafe Coal Harbor in Vancouver. The two were talking to each other while laughing and smiling. Many close people also came talking.
Diljit first tweeted then deleted
After this news went viral, the Punjabi singer reacted by tweeting. He tweeted and wrote: "Yaar privacy naam di v koi cheez hoodi aa".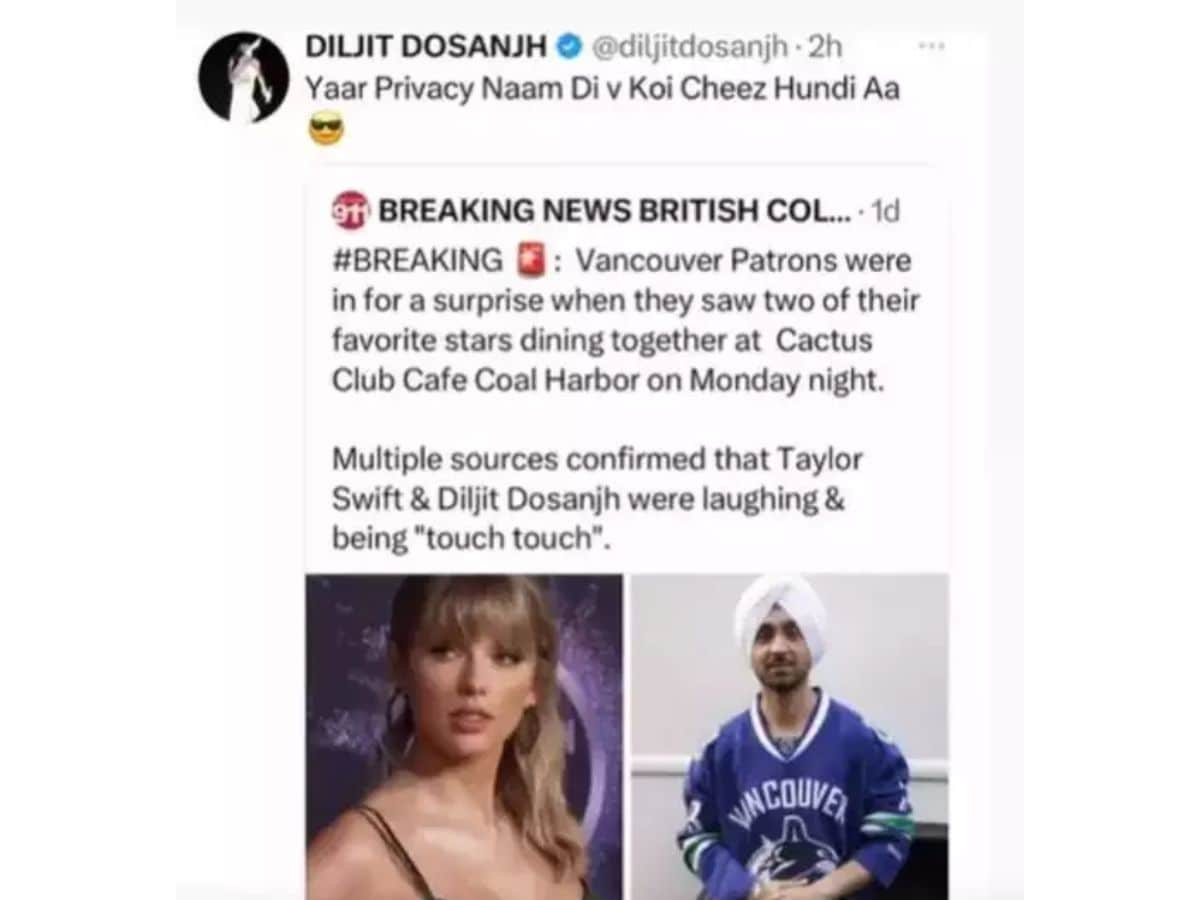 Fans might figure something out tweeting that even before the singer and actor deleted the tweet. After the tweet was deleted, news of Diljit and Taylor Swift being intimate went viral and news of the two singers dating caught fire.
Diljit will be seen in 'Amar Singh Chamkila'
Speaking of the work front, Diljit will soon be seen in the movie 'Amar Singh Chamkila'. Parineeti Chopra is also in the film, which will be released on Netflix. The teaser for the movie was released recently after which there are a lot of talks about the movie.
,
Tags: Diljit Dosanjh
FIRST POST: June 08, 2023, 4:52 p.m. HST
,