«CONTRA SPEM SPERO! » organ in 4 arms and 4 legs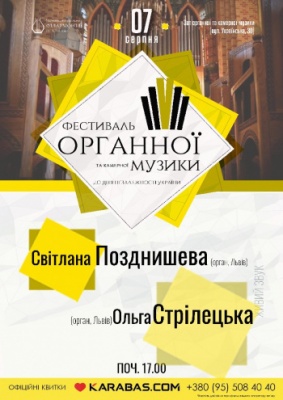 Hall of organ and chamber music of Chernivtsi regional philharmonic named after D. Hnatyuk
August 7, 5:00 p.m
Entrance – 120 – 200 UAH
Concert within the framework of the fifth festival of organ and chamber music devoted to the Independence Day of Ukraine.
"CONTRA SPEM SPERO! " (organ in 4 arms and 4 legs)
Olga STRILETSKA – organ (Lviv)
Svitlana POZDNISHEVA – organ (Lviv)
Poetry Lesi Ukrainki, zreshtoyu, yak і іних корифейв українська литратури відбіває настрої народу, їє їє їє їє їїєєїїm. But the last months of our life proved that the spirit of struggle and faith in one's own strength, and not the hope of the enemy's mercy, is the way to zvityagi.
These two moods: melancholy hope and hopelessness, and at the same time heroism and confidence in the uniqueness and uniqueness of the native land are present in the programs of two young talented organists. Along with the Melancholy Waltz, we play the heroic overture "Egmont", the magical beauty of Spain in concerts competes with the calm of the Bohemian Forest.
JS Bach. Organ Concerto in C major BWV 595
JS Bach. Duet in F major op. 20
A. Dvorak. "In Spinners", "On Black Lakes", "In a Storm" with suites "Z
bohemian forest" L.Beethoven. Egmont Overture
J. Brahms. Choral preludes op. 122 #1, 4
S. Ludkevich. Melancholy waltz
M. Ravel. Spanish Rhapsody
P. Duke. Apprentice wizard
.