Erdogan proposed to Putin to hold a meeting with Zelensky in Turkey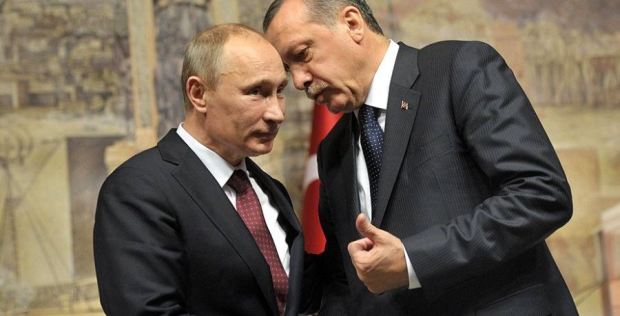 Turkish President Recep Tayyip Erdogan announced that he offered Vladimir Putin to hold meetings with Ukrainian leader Volodymyr Zelensky in Turkey. He said this in a conversation with Turkish mass media after his visit to Russia, TV channel TRT Haber reports.
"I once again reminded Mr. Putin that we can organize his meeting with Mr. Zelensky. We will continue to promote our dialogue with Russia, our Black Sea neighbor, in all areas in order to contribute to regional and global peace," Erdogan said.
The Turkish leader called the dialogue between Moscow and Ankara concluding a deal on the export of grain as an example of a positive result and expressed the hope that it would contribute to a diplomatic solution to the Ukrainian crisis. "Now it is important that the plan be implemented properly and that the positive atmosphere is embodied in concrete steps towards the return to negotiations in Istanbul. From the very beginning he emphasized that in [конфликте] there will be no winner in Ukraine. Despite the difficulties in places, I have a firm belief that the crisis will be resolved at the negotiating table," he emphasized.
On August 5, a meeting between Erdogan and Putin took place in Sochi. As a result, the leaders of the two countries adopted a joint statement: they agreed to increase the volume of mutual trade, "meet each other's expectations" in the areas of economy and energy, take steps to improve cooperation in such sectors as transport, trade, agriculture, industry, finance , tourism and construction. In particular, Russia and Turkey agreed to start paying Ankara for Russian gas in rubles.
At the end of July, at the negotiations in Istanbul, Russia and Ukraine separately signed agreements on the resumption of the export of Ukrainian grain on the Black Sea. Grain, according to the agreements, will be exported from three Ukrainian ports – Odessa, Southern and Black Sea. At the same time, Kyiv will not mine the Ukrainian ports, safe fairways are used for the passage of ships. A coordination center will be created in Istanbul to monitor the departure of ships from Ukraine, which will include Russia, Ukraine and Turkey.