Human memory does not fade… Volodymyra Pryadka's death passes*
* I did ads
Labyrinths of human memory memories, events, dates of the past flow in an endless stream. But always, among them, the brightest, most vulnerable ones flash.
On July 27, 2021, we will remember the irreparable loss of our relatives, friends, friends, and many Bukovinians, an extraordinary person who was respected not only in our country, but far beyond the limits of a person.
This year, July 27 is the anniversary of the death of the former rector of the Bukovina State Financial and Economic University, Professor VOLODYMIRA VASILYOVICH PRIADKA.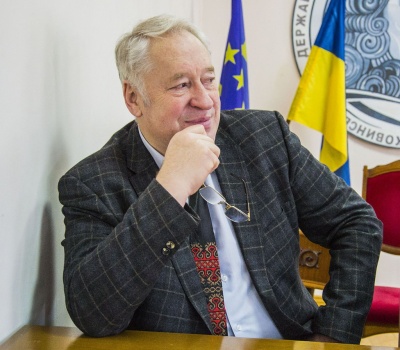 About a year ago, together with colleagues and friends, he outlined vital plans, dreaming of applying his rich experience, knowledge, and stormy energy in the future, but now this wise, courageous man is no more. So he left his legacy not only for our city, but for all of Bukovina. This was an extraordinary personality, a man of strong will, indomitable character, powerful dynamism, burning desire for action, for life. His directness, persistence, obsessive work ethic, self-demanding and ambitious goals always contributed to the team's success and victory.
Figuratively speaking, for him the job was a call to the heart, it often replaced him with rest, meeting with friends, family rest. He was not only a talented manager, but a wonderful mentor, mentor and wise counselor.
For more than a quarter of a century, Volodymyr Vasylovich headed one of the oldest educational institutions in Ukraine. Under the leadership of the Chernivtsi Financial Technical College, skillfully using the already acquired achievements of this institution, he created, shaped, and built his future. The institution under the leadership of V. V. Priadka went through a difficult evolutionary path of transformation – from a technical school, college, institute to an academy and a university. All of this was achieved in a very short time, but it took decades for many others.
Volodymyr Vasilovich successfully worked in the scientific field. Vin – the author of over a hundred scientific and scientific-methodological works, an active public figure. The state highly appreciated his significant achievements. Vin received titles "Meritorious worker of education of Ukraine"Knight of the Order "For merit" ІІІ degrees and many worthy state awards.
Unfortunately, human life is not eternal. Volodymyr Vasilovich saw another world, another existence, another wisdom, another dimension. Let Volodymyr Vasiliovich Pryadka become a talented leader, a scientist, a non-standard, sensitive person, a reliable comrade and colleague, forever remain in the hearts of his relatives, friends, colleagues, his numerous former students.
Kingdom of heaven, eternal peace.
Relatives, colleagues, friends.
Today, 19:30

0

21
.