Legalization of firearms – Monastirskiy promises quick adoption of the law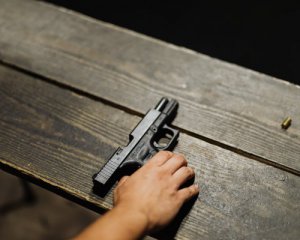 In the near future, the Verkhovna Rada may pass a law on the legalization of firearms.
Ukrainians have the opportunity to buy pistols and other firearms for the protection of their homes, the Minister of Internal Affairs said Denis Monastirskyi on telethon.
READ ALSO: The Ministry of Internal Affairs clarified the issues of regulating the law on weapons
The position of the Ministry of Internal Affairs is now such that Ukrainians must have the opportunity to have weapons for the protection of their own homes.
"But I am against the free carrying of weapons in public places, because we see risks for public safety that exceed the benefits that such a norm can have. Now we are working with parliamentarians. In the near future, we will pass the corresponding law. The first reading has already taken place, and now they are preparing a law for the second reading. In the near future, it will be brought before the parliament," Monastirskyi said.
More than 80% of Ukrainians want to own weapons. This is what the interim results of the citizens' survey at the "Diya" mobile application show.
The Ministry of Internal Affairs also disclosed details of the draft law on the legalization of weapons in Ukraine.
In 2015, a petition for the legalization of weapons on the president's website collected the necessary 25,000. signed The President was urged to legislatively regulate the right of citizens to possess firearms.
On February 23, the Verkhovna Rada supported in the first reading a draft law on the circulation of firearms among civilians. The draft law defines the concept of the right to own a civilian firearm, and the procedure for obtaining documents by citizens and legal entities about the right to own such a weapon. It is also envisaged that the procedure for viewing a medical certificate will be developed so that there are no medical contraindications to the possession of weapons.