Occupiers go on the offensive in Donbass – what is known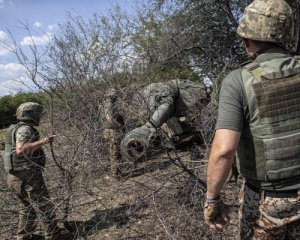 Russian occupiers are trying to break through the defense of Ukrainian troops in the direction of Oleksandropoli, Krasnogorivki, Avdiivki, Mar'inki and Piskiv. Fierce fighting is going on.
In the Avdiyiv direction, the enemy shelled with tanks and rocket artillery the areas of the settlements of Kurakhove, New York, Mar'inka, Krasnohorivka and Oleksandropil. There was an airstrike near Mari'inka, the General Staff reported.
READ ALSO: The General Staff updated data on the losses of the Russian occupiers in Ukraine
"On the Novopavlivka and Zaporizhzhya directions, the enemy carried out fire damage in the vicinity of Volodymyrivka, Pavlivka, Vugledara and a number of other settlements. Having carried out airstrikes on the areas of Novosilka, Pavlivka, Volodymyrivka and Chervonogo", – said in the report.
In the direction of Pavlivka and Novosilka, the defenders could not improve their tactical position.
In the Southern Buz direction, Russians shelled civilian infrastructure near Stepova Valley, Parutino, Pribuz and others. Three aircraft were near Andriyivka, Osokorivka, Biloi Krynitsa and Lozovogo.
"The occupiers unsuccessfully tried to advance in the areas of Lozove and Shiroke settlements. They retreated," added the General Staff.
Losses of Russian occupiers in Ukraine are increasing. Kommanduvanna zagarbnikiv perenosit lines of rotations of advanced subdivisions for indefinite periods without their doukomplektuvanna personal warehouse.
Russian occupiers bring prisoners from the Russian Federation to Ukraine. In the city of Balaklia in the Kharkiv region, there is a battalion of occupants, with former criminal prisoners mobilized in Russia.
A covert mobilization is being conducted in the Russian Federation. The Kremlin recruits prisoners for serious crimes and creates national battalions in Mariy El, Tatarstan.