Serbia can join the sanctions against Russia – Vucic has made up his mind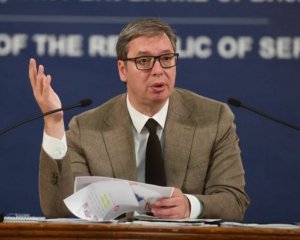 Serbia can join the European sanctions policy against Russia.
However, for this, according to the President of Serbia Aleksandara Vucicathe country is waiting for a certain signal from the European Union, RTV reports.
"If they tell us that we have six months left to join the EU, we will fully harmonize our policy with theirs. It is our duty to do so," said Vucic.
READ ALSO: Ukraine withdraws its contingent from Kosovo
According to him, Serbia has never maintained neutrality and does not need foreign military bases on its territory.
Vucic assured that the country will maintain a neutral status as long as he is president. Serbia, according to him, is not ashamed of good relations with Russia, America, and China. She is on her way to the EU, but ready to take care of herself on her own.
In March, Serbia was the last in Europe to close the sky for Russia.
In April, Serbia re-elected pro-Russian President Aleksandar Vucic for a second term.
Although Serbia supported two UN resolutions condemning the full-scale Russian invasion of Ukraine, it refused to impose sanctions against Moscow.