The SBU detained Russian agents who tried to fit in with the ZSU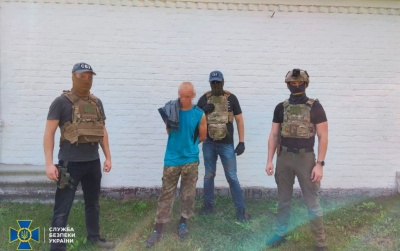 For the implementation of this task, the Russian exiles tried to install themselves next to the logistics units of the Armed Forces of Ukraine.
This is reported by the press service of the Security Service of Ukraine.
Two residents of the Vyshgorod district who supported Russian troops during the temporary occupation of parts of Kyiv region were traitors. The armed men took an active part in the so-called filtration raids, searching among local residents for Ukrainian patriots who resisted the invaders.
It was also established that the perpetrators tortured a minor boy because he was helping units of the ZSU to identify the technique of the location of the occupants' dislocations.
After the liberation of Kyiv region, the helpers of the occupiers remained in the territory of the region and continued their subversive activity against our state. In order to rozviduvati and transmit information to the enemy about the routes of movement and the location of bases of western weapons, one of the traitors went to the neighboring region, where he signed a contract with the ZSU, the other wanted to "call on" one of the territorial communities near Kyiv.
But employees of the SBU carefully followed the hostile agents closely. Counter-intelligence agents promptly discovered their plans and documented criminal activities. During searches of the detainees' residences, law enforcement officers found components for improvised explosive devices and communication devices used by the enemy agency to communicate with Russian "coordinators".
So far, SBU investigators have notified the detainees of suspicion of treason committed under martial law. The court ruled that the measure of remand was in custody. Перевирияться зв'язки зраднику з представлентами спецслужды РФ
Read news "MB" at Facebook | Telegram | Viber | Instagram
Today, 20:20

0

175
.