The UN still sees Olenivka – Guterres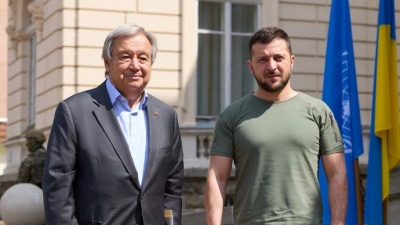 UN Secretary General António Guterres on Thursday, August 18, spoke about the preparation of the mission in the occupied Olenivka of the Donetsk region, where the Russian occupiers committed a mass murder of Ukrainian prisoners of war.
This was reported by Interfax-Ukraine, "HV" writes.
During the briefing on the results of the meeting with the President of Ukraine Volodymyr Zelenskiy and his Turkish counterpart Recep Tayyip Erdogan in Lviv, the UN Secretary General announced that they had discussed the investigation of the tragedy in Olenivtsi, calling what happened "unacceptable".
"I decided to conduct a fact-finding mission. Conditions for the implementation of this mission were brought to Ukraine and Russia. In addition to intelligence, a number of groups were identified to be involved in the implementation of the investigation. I plan to appoint General Carlos dos Santos Cruz of Brazil as its leader"Guterres said.
According to the Secretary General, dos Santos Cruz is a respected officer with more than 40 years of service, who worked in the fields of national, international and public security, and also led one peacekeeping mission.
Read news "MB" at Facebook | Telegram | Viber | Instagram
Today, 01:00

0

225
.