The Usyk-Joshua fight will take place today: what to watch and what predictions are made by bookmakers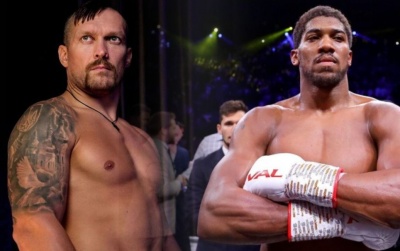 Today, August 20, WBA, WBO and IBF heavyweight champion Oleksandr Usyk will meet in a rematch with Briton Anthony Joshua.
The fight will take place at the Jeddah Super Dome Arena in Jeddah, Saudi Arabia, which can accommodate up to 40,000 spectators. Start one-on-one at 23:00 Kyiv time.
At stake will be the IBF, WBA, WBO and IBO championship belts, which the Ukrainian sensationally won from Joshua last September.
Watch the fight Usyk – Joshua

The fight will be broadcast on TV channels 2+2. The battle of 2+2 can also be viewed by subscribers of the Kyivstar TV platform, who have selected the channel in the list of translators.
The rematch can also be watched on regional channels "Suspilnogo".
Bookmakers' predictions for the fight Usyk – Joshua

Bookmakers in the future protostoyanni viddayut ukraine schampionu.
You can bet Usika to win with a coefficient of 1.50. That Joshua will be able to take revenge – 2.79. Draw, the least likely result in boxing, estimated by the coefficient of 19.00.
Who will be in the undercard?

Croatian boxer Filip Hrgović (14-0, 12 KO) and Chinese Zhang Zhilei (24-0-1, 19 KO) will determine the mandatory contender for the IBF version in the heavyweight division.
Former world champion in the second middleweight (up to 76.2 kg) British Callum Smith (28-1, 20 KOs) will meet French Mathieu Boderlik (21-1, 12 KOs). The match became eligible for the WBC version in the light heavyweight category (up to 79.4 kg).
World champion in two weight categories, Swede Badu Jack (25-3-3, 15 KOs) held a fight in the first heavyweight division (up to 90.7 kg) against the American Richard Riveri (21-0, 16 KOs).
Participant of the World Boxing Superseries (WBSS), American Andrew Tabithi (19-1, 15 KO) will meet in the limit of the first heavyweight (up to 90.7 kg) with Surinamese Tyrone Spong (14-0, 13 KO).
How much do boxers earn for a rematch

According to Talk Sport journalist Michael Benson, the second fight should bring the boxers 65 million pounds (80 million dollars), which may surpass the previous rematch between Joshua and the American Andy Ruiz (about 73 million dollars). The net fee for the match will be divided equally – 50×50.
Yak boxers were preparing for a fight

Rivals seriously approached preparations for the rematch. Ukrainian heavyweight boxer Oleksandr Zahozhiy (17-0, 13 KOs), who knocked out "Achilles" in his last fight, is helping to prepare for the fight with Joshua Usyku. Vin joined the Ukrainian champion's training camp to spar with him.
Also, the Ukrainian demonstrated that he was preparing for a rematch. Usik spent a lot of time on the treadmill, boxing pears, and doing cardio.
At that time, Joshua was also working tirelessly to regain his championship belts. The Briton demonstrated remarkable resilience and went on to win.
Wislovi opponent before the fight

At the pre-match press conference, Usyk stated that he will not make loud statements until the fight, but instead trains tirelessly to make people happy with his boxing already in the ring.
"We do our job with our command. I never made any loud statements. I just honestly worked during the training camp. That's what I'll do until the last day before the fight, and then I'll go to the ring and make everyone happy with my boxing. "I don't want to be a champion. My team, children and my wonderful team make me happy," Oleksandr said.
In his turn, Joshua announced his intentions to regain his championship belts. The Brit said that he does not lose hope of becoming the absolute world champion in the heavyweight division.
"I will always be very hungry. Failures happen in life, but perseverance, psychological toughness and stability will always take the mountain. That's why we continue my path to the title of the absolute champion of the world. We need to give credit to everyone. I'm not a hater, I respect people, I respect Usika and you, чего він міжнув.
The most important thing is that I have a second chance. And if you know something about my life, I got into trouble when I was young, and boxing itself gave me a second chance. He found a box and grabbed it with both hands. If you are familiar with my story, you know: she is the King of Kambekiv. You can defeat me, but it is difficult to keep me in this state. Even in difficult times, I know that everything happens in the long term.
In the first fight, Usyk hit my ass in several rounds, a strong man should take this defeat. But she is ready to take responsibility and admit that she has forgiven. U veresni stumbled upon it, but Usik did not, and on August 20 everything turned out the other way around. I don't want to complicate things: genius is simple, so I'll forgive her, I'll get ready for a fight. "I want the command of Usika successful training and a safe road", – summed up the Briton.
35-year-old Usyk has 19 wins (13 by knockout) in 19 fights. He spent three of them in a super heavy vase. Before that, Oleksandr became the absolute world champion in cruiserweight (weight category up to 90.7 kg), winning all four of the most prestigious belts there.
32-year-old Joshua has 24 wins (22 by knockout) and two defeats. AJ first lost in June 2019 to Andy Ruisu, but in December of the same year he defeated the Mexican in a rematch and regained the titles.
Read news "MB" at Facebook | Telegram | Viber |
Today, 22:16

0

95
.