Akshay Kumar reached BAPS Abu Dhabi Hindu Temple, Shilpuja
New Delhi. Actor Akshay Kumar reaches the BAPS Hindu Temple being built in Abu Dhabi, United Arab Emirates. He was accompanied by well-known filmmaker Vasu Bhagnani and other representatives. Here he was welcomed by Swami Brahmavihari Das, head of the BAPS Hindu temple. Akshay Kumar visited the Hindu temple complex under construction and also learned about its history. Also saw the exhibition in the temple and also performed Shilpuja.
The exhibition presents a fascinating insight into the temple, which was designed in 1997 by Pramukh Swami Maharaj for harmony and peace. This temple will be ready in February 2024. Swami Teerthaswaroopdas of BAPS said that Akshay Kumar and the delegation attended a meeting of the main temple volunteers. Here Swami Brahmavihari Das mesmerized everyone with his speech sharing the story of the temple. Pointing to Akshay Kumar and the present film industry, Swamy said that this temple project is written in heaven and is now being screened here on earth.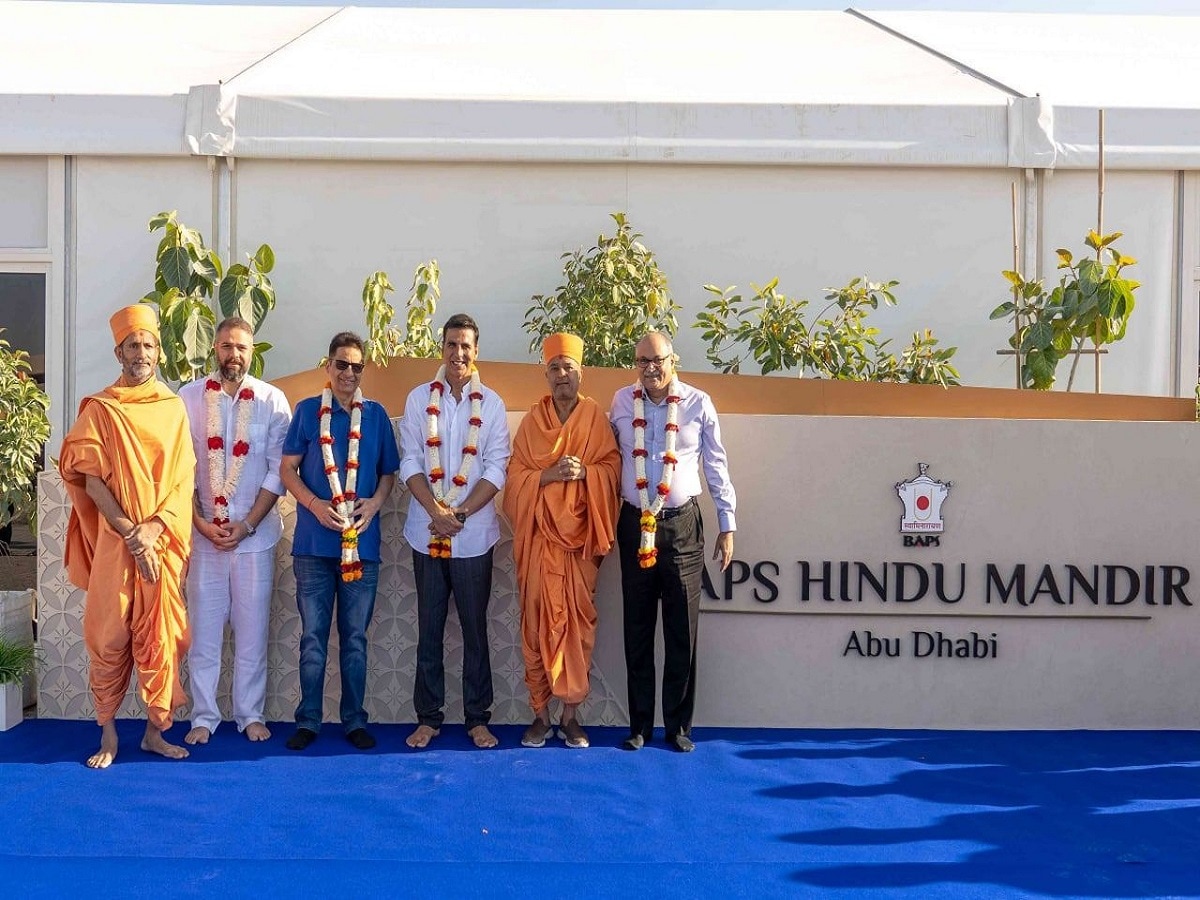 BAPS Saints with Akshay Kumar and delegation at BAPS Hindu Temple, Abu Dhabi
Akshay Kumar and the delegation performed Shilpuja in the construction of the temple, participated in a puja ceremony to place the Shil. Here he reached more than 40,000 people. Those who have already laid their stones to help build the temple. Later, Akshay Kumar and the delegation visited the temple under construction and climbed the grand staircase of the temple.
Swami Brahmaviharidas led the delegation and showed the breathtaking design and architecture of the temple made of pink stones from Rajasthan and Italian marble. Where steel was not used. Akshay Kumar stayed in the temple for over two hours. Later met the volunteers engaged in the construction of the temple.
Read the latest news in America for the first time News84Media America | Read today's latest news, live updates, the most trusted America news website, News84Media America.
Tags: abu dhabi, Akshay Kumar
FIRST POST: May 04, 2023, 11:15 a.m.
,