Earthquake in Turkey in Syria: the devastation in Turkey and Syria was expected on February 3 itself? Find out who gave this warning
Ankara. Three powerful earthquakes in Turkey and Syria in 24 hours on Monday killed thousands. The quake killed more than 3,800 people – more than 1,500 in Turkey and at least 810 in Syria, with thousands more injured. There was extensive damage in both countries, including fires at pipelines and oil refineries. As rescuers rushed to pull people trapped under the rubble of collapsed buildings in freezing weather and set up shelters for those affected, another major earthquake, measuring 7.5, shook the same area. Dozens of aftershocks were felt afterwards.
Meanwhile, a tweet from researcher Frank Hoogerbeets is going viral, in which he had already predicted this powerful earthquake. He wrote in a tweet on February 3: "Sooner or later, a magnitude 7.5 earthquake will occur in south-central Turkey, Jordan, Syria and Lebanon." And his statement came true on February 6, when one earthquake after another devastated Turkey and Syria. Hoogerbeets works as a researcher at the Research Institute for Geometric Surveillance Between Celestial Objects (SSGEOS) based in the Netherlands.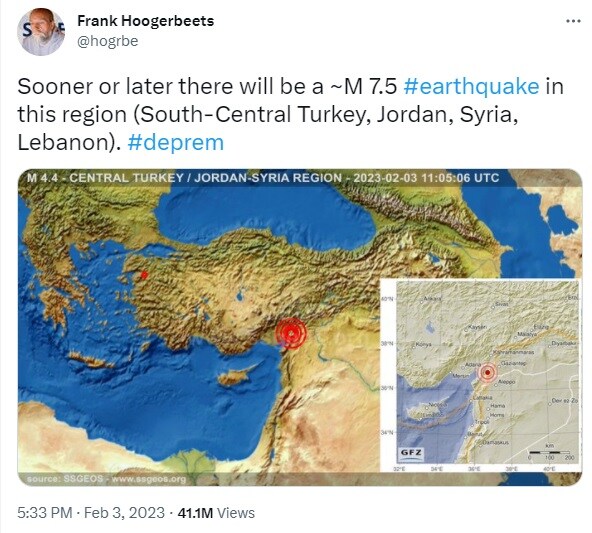 Images from the affected areas were heartbreaking, showing the widespread destruction of public and private property, including some ancient cultural sites. Those lucky enough to flee to the open space immediately, some were seen mourning the loss of their near and dear ones, who are still trapped under the debris of the collapsed buildings. Others tried to console and reassure him.
The epicenter of the quake was Kahramanmaras, the southeastern province of Turkey, and tremors were felt as far as Cairo. In Damascus too, people had to go out into the streets because of the earthquake and in Beirut, people were sleeping when the tremors were felt.
The death toll will exceed 20 thousand! WHO has warned of devastation in Turkey-Syria, this
The quake occurred in an area of ​​Syria where civil war has raged for more than a decade and the affected area is divided between government and rebels and surrounded by Russian-backed government forces. At the same time, due to the conflict in the Turkish region, millions of refugees are settled. Four million people displaced by the fighting live in Syrian territory held by the opposition. Many of them lived in buildings already damaged by bombardment.
According to the US Geological Survey, the earthquake's epicenter was about 33 km from Gaziantep at a depth of 18 km. Its shocks were felt in the provinces. According to the survey, a few hours later, another earthquake of magnitude 7.5 was felt, the epicenter of which was only 100 kilometers from the epicenter of the first one.
Read the latest news in America for the first time News84Media America | Read today's latest news, live updates, the most trusted America news website, News84Media America.
Tags: earthquake, Syria, Turkish
FIRST POST: 07 February 2023, 08:04 IST
,