Outcry following the bursting of a dam in Ukraine, 24 villages submerged by water, 42,000 people…
Ukraine dam collapse: Ukraine was flooded after the Nova Kakhovka dam collapsed. Authorities estimate that some 42,000 people are at risk from the floods, which are expected to peak on Wednesday. Footage posted on social media showed severe flooding in the Russian-held city of Novaya Kakhovka. 53 evacuation buses are sent from Nova Kakhovka and two nearby settlements to take people to safer places. Ukrainian authorities evacuate more than 17,000 people. Ukraine's Interior Ministry said 24 villages were flooded. Ukraine estimated that about 100 villages and towns will be flooded and the water level will drop only after 5-7 days.
01
A huge amount of water began to flow after Tuesday's attack on a Russian-occupied dam in southern Ukraine. Two dozen villages were flooded and 17,000 people had to be evacuated. Russian officials blamed Ukraine, while Kyiv blamed the Russian military for the attack.
02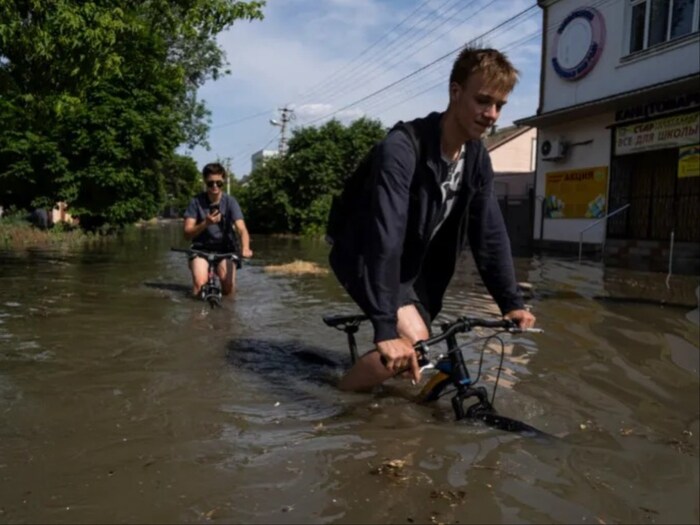 About 42,000 people in Russian and Ukrainian-controlled areas along the Dnieper are at risk of flooding following the collapse of the Novaya Kakhovka dam. Ukrainian officials said 17,000 people were being evacuated and a total of 24 villages were flooded.
03
Buses, trains and private vehicles were used to transport around 80 flood-affected communities to safer locations. The Kazkova Dibrova zoo on the river bank was completely submerged by the flood and all 300 animals died.
04
Ukrainian President Volodymyr Zelensky accused Russia of blowing up the dam and quoted officials saying up to 80 settlements are expected to be flooded and urged the world to respond.
05
The dam provides cooling water for Europe's largest nuclear power plant. Western powers also blamed Russia for the loss. UN chief Antonio Guterres said on Tuesday that the partial destruction of Ukraine's Kakhovka dam was carried out by Russia as an attack on its neighbour.
,