PHOTOS: Russia was off to drop bombs on Ukraine but accidentally made 'ruins' of its own city, see chilling footage
Russian War in Ukraine update: A Russian Sukhoi-34 supersonic warplane accidentally fired a weapon Thursday night in the town of Belgorod near Ukraine, causing an explosion and injuring three people. Where the bomb fell, a 20-meter crater formed in the middle of the city. Many houses, cars also suffered significant damage in the bombardments. A woman was hospitalized with a head injury. Local authorities reported a large explosion in Belgorod on Thursday evening. (Photo: AFP/Reuters)
01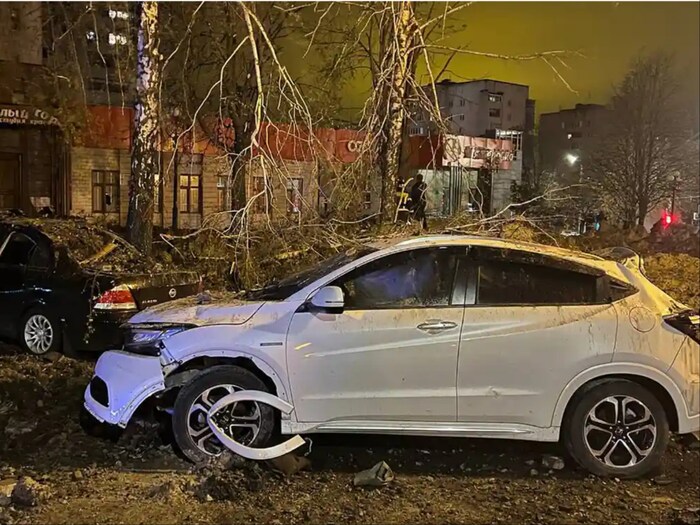 It has been more than a year since the war, but for the first time there was a big mistake by the Russian army. A Russian bomber accidentally dropped bombs on his own city.
02
The bomb fell in the city of Belgorod, Russia. The major damage caused by the attack can be gauged by the fact that where the bomb fell, a 20-meter crater formed in the middle of the city.
03
Many photos of the damage caused after this explosion are circulating on social networks. 4 apartments and 4 cars were damaged in this explosion. Electric poles fell. 3 were injured.
04
Belgorod Governor Vyacheslav Gladkov said townspeople were shaken by the blast. Local authorities reported a large explosion in Belgorod on Thursday evening.
05
Regarding this attack, local officials say they do not know what was the reason for the explosion. But the Russian Defense Ministry released a statement saying a fighter jet had fired munitions over Belgorod.
,