Shortest job interview went viral on Twitter, ex-CEO asked for a job, says Elon Musk – NO
Strong points
Elon Musk, CEO of Tesla Company and new owner of Twitter, is making headlines for his tweet.
The former CEO of a mobile phone company had demanded a job from Elon Musk by tweeting.
Elon Musk declined to give the post when responding to the tweet.
New Delhi. Elon Musk has been in the limelight for his tweets since buying the micro-blogging site Twitter. In this episode, Elon Musk is once again in the news. In fact, he retweeted a tweet from a former cell phone company CEO, which is going viral. John Legere, former CEO of T-Mobile of America, tweeted that "Elon Musk let me run Twitter". You only focus on the product and the technology. Stop focusing on day-to-day business and content moderation and let someone else manage Twitter.
Apart from that, the former CEO mocked the tweet and wrote that "I'm a bit expensive and anyway you (Elon Musk) bought Twitter expensive". Along with this he also wrote that through the tweet you should present an example of how the tweet is done. To this, Musk immediately responded and answered with one word – 'No'…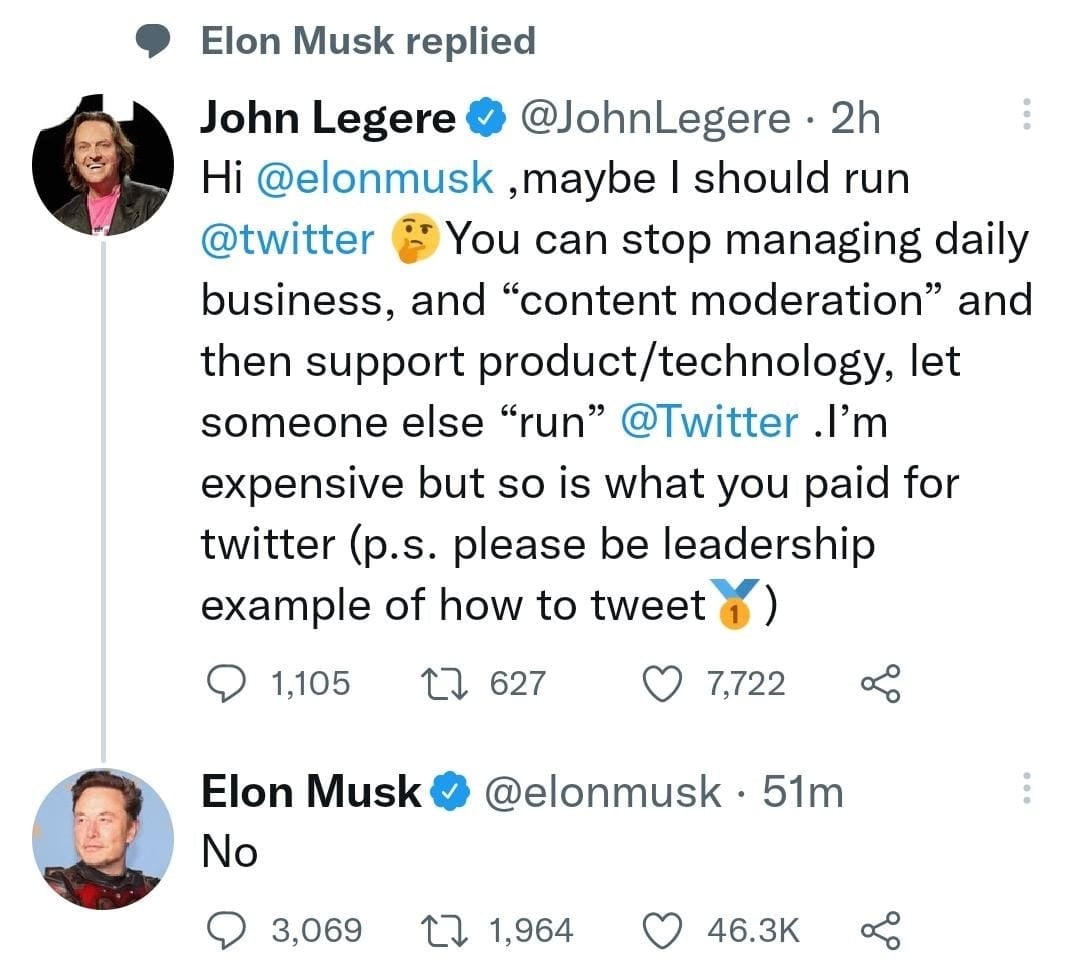 Responding to this flat response from Musk, John amusingly wrote that "That was a very short interview." Well, I can't say now that I haven't tried.
Let us tell you that recently US President Joe Biden commented on Elon Musk. US President Joe Biden has said Tesla founder Elon Musk should be investigated for his cooperation and technical ties with other countries. At a White House press conference on Wednesday, Biden said, "I think Elon Musk's cooperation (business partnership, etc.) or technical relationships with other countries should be looked at."
When asked if Musk poses a national security threat to the United States, he replied, "Whether he does something wrong or not, I'm not saying." All I'm suggesting is that it should be investigated. That's all I'm saying. When asked how, Biden replied, "There are all kinds of ways." (from input language)
Be the first to read the latest news in America News84Media America | Today's Breaking News, Live Updates, Read Most Trusted America News Website News84Media America |
Tags: Elon Musk, Twitter
FIRST POST: November 13, 2022, 11:35 PM IST
,