There was a commotion on the beach in Japan! Government issued warning alarm after receiving huge iron ball, know what the problem is
strong points
An iron ball found on a beach in Japan, the investigation begins
When the local citizen saw in the morning, he informed the police
All discussions are taking place regarding the mysterious shell
Tokyo. There was a stir after the discovery of a large iron ball on the coast of the city of Hamamatsu in Japan. The Japanese army, police and coast guard are all vigilant about this. The photos of this giant sphere also caused a stir on social networks. Along with ordinary citizens, Japanese officials have expressed concern about this. Videos of officials examining the sphere have been shared on social media, but it's still unclear what this giant hollow iron ball is and how it got to Japan.
A report by Asahi News said a citizen of the southern coastal city of Hamamatsu, about 250 km from Tokyo, first saw this giant ball and notified police by phone at 9 a.m. He said there was a large round object on the beach. After this news, the sensation also spread in the Japanese media. However, it was discarded after experts used X-ray technology to examine the object's interior and found it to be hollow.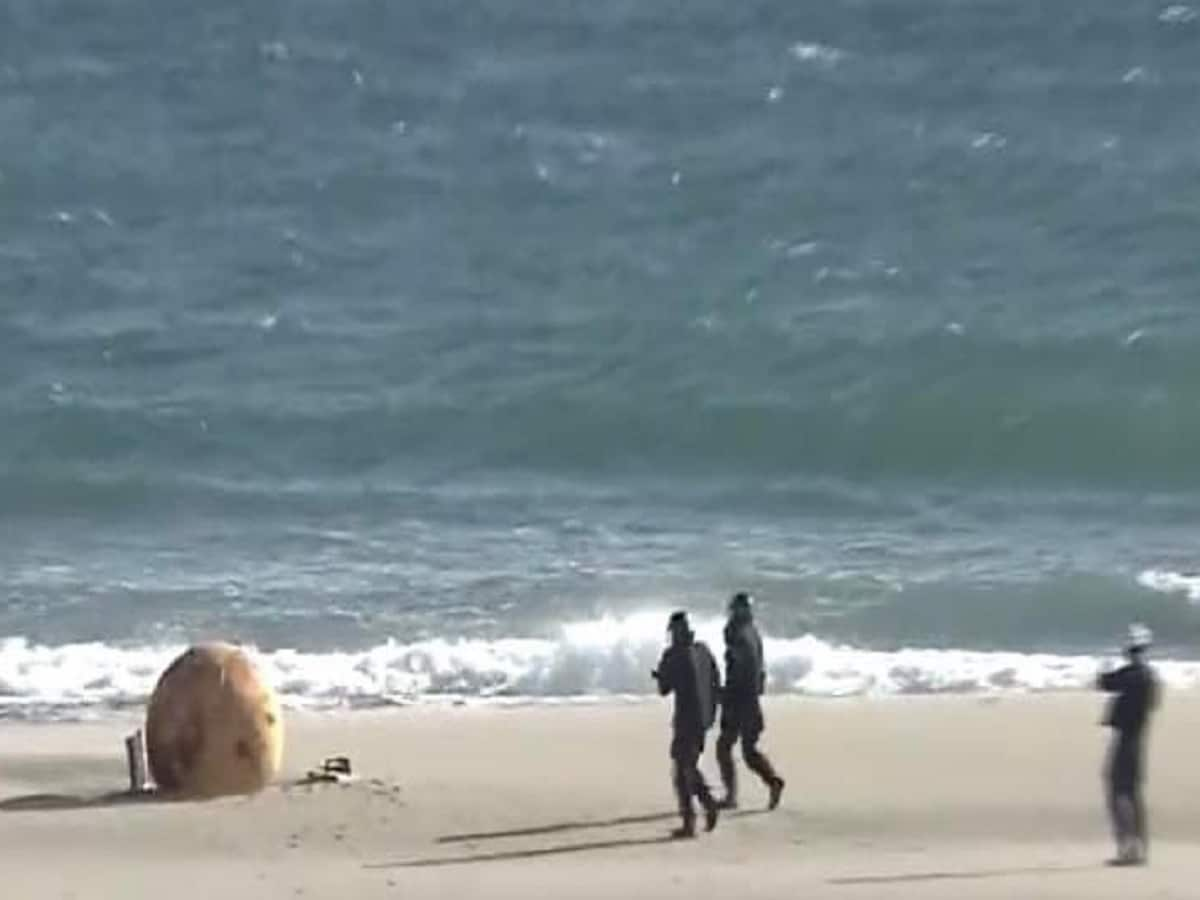 The local citizen informed the police in the morning. (Photo-Social Media)
The sphere is 1.5 meters in diameter, X-rays revealed that…
Local media reported that the diameter of this sphere is around 1.5 meters. There was a possibility that it was a bomb or a mine. However, when examined with X-rays, it was found to be hollow. Police had also called in the bomb squad to investigate the shells and some investigators were also seen examining the shells wearing special protective suits.
Restrictions for people going to the beach
After the discovery of the huge shell, the local administration immediately banned the movement of ordinary people on the beach. The area was cordoned off by police, security guards and coastguards. However, this restriction was lifted at 4 p.m. According to Vice News, it's a large circle with hooks on it, and it can be useful for keeping anything else above the surface of the water. However, Japanese security forces and police have kept the shell in their custody for further investigation and further investigation is ongoing.
First read latest news in America News84Media America | Read today's latest news, live updates, the most trusted America news website, News84Media America.
Tags: Army, investigation, Japanese, social networks
FIRST POST: February 22, 2023, 6:18 PM HST
,