News84Media
—

Two years after alleging he was racially abused at a cricket match, an Indian fan has had a hand in shaping how the sport tackles discrimination in Australia.
Krishna Kumar was attending the third day of the 2021 test match between Australia and India at the Sydney Cricket Ground (SCG) when he heard chants of "curry munchers" aimed at Indian players and fans.
He returned to the SCG on the fifth day of the test, when, he says, he was racially profiled by security staff.
According to Kumar, that included being told to "go back to where you came from" by a member of staff who was examining the anti-racism banners he had hoped to take into the ground.
He also said he was subjected to an "unnecessary" two-and-a-half-minute frisking with a metal detector and what he felt was a stricter security presence for Indian fans once inside the stadium.
In the aftermath of the match, Kumar, who lives in Sydney with his wife and two children, launched two complaints: one with Cricket Australia (CA), the sport's national governing body, and another with Venues NSW, which owns the SCG.
At first, he says, progress was slow and answers were not forthcoming.
"By the time we closed the complaints, it was March or April 2022, so it almost took 14 to 15 months of back and forth and back and forth," Kumar tells. News84Media Sports. "It took a toll a bit in terms of your mental health."
Fast-forward to 2023 and Kumar is feeling a bit more optimistic.
Since lodging complaints via Anti-Discrimination New South Wales – a local government branch acting as an intermediary – he has received a written apology from CA and was told there would be a review of the governing body's complaints process.
He was also informed that his efforts contributed to the signing of the CA spectator racism guidelineswhich were developed by the Australian Human Rights Commission.
The guidelines identify actions that spectators, officials, and players can take when they see or experience racism at sports venues, as well as outlining measures to prevent racism from occurring in the first instance.
CA also gave Kumar the opportunity to contribute to a series of anti-discrimination films, which feature Australian players Usman Khawaja and Beth Mooney and are being played on big screens during international matches organized by CA this season.
That involved providing pre- and post-production feedback and offering input on the script.
After lodging a complaint with Venues NSW, Kumar says he was initially offered event tickets and membership at the SCG.
He declined, however, on the grounds that he wanted "accountability for what happened," rather than compensation.
Several months down the line, he was told by Venues NSW that staff would receive training on how they interact with patrons and that there would be greater clarity for spectators regarding what they can and cannot display on banners.
According to Kumar, Venues NSW said there was no conclusive evidence to prove that a member of the security staff had told him to go back to where he came from.
But he nevertheless feels satisfied with the outcome of the two complaints.
"If you stand up for what you think is the right thing, you can achieve the desired results," says Kumar.
"If my story can bring that out in terms of: this is what I did and these are the results that I achieved and these are systemic changes that happened," he adds, "I think that's a win on its own."
Kumar's account of the racial abuse he says received at the SCG two years ago is not an anomaly in Australian cricket.
Khawaja, a top-order batter and Australia's first and only Muslim test cricket player, recently told the Sydney Morning Herald that he was called a curry muncher "all the time" growing up, adding that, due to his Pakistani heritage, he struggled to relate to Australia's cricket team until he was 13 or 14 years old.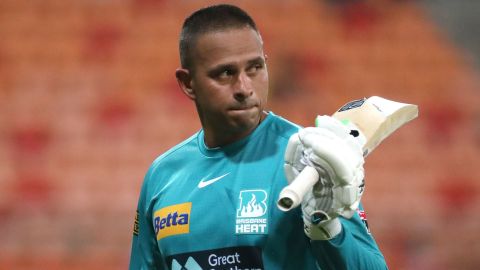 "You see cricketers from Sri Lanka, Bangladesh, Pakistan, India, everywhere at a young level [in Australia]," Khawaja told SMH.
"But as you get up at a high-performance level, it just drops exponentially. It just drops, drops, drops. That's where I'm trying to work with Cricket Australia, saying: 'Look, guys… you invest a lot of money into this, but something's not going right. You've been doing it for 10 years and nothing's changed.'"
The problem, Khawaja says, is that cricket administrators, selectors, and coaches are largely White – even though CA has developed a series of "inclusion solutions" to create new opportunities and ensure diverse representation at clubs across the country.
As for Kumar, he calls Khawaja an "inspirational" figure for South Asian born Australian residents like himself.
"He has no idea how much he is actually helping the next generation in terms of making them believe it is impossible to wear that baggy green," he says, referring to the iconic green cap worn by Australia's test cricketers.
Kumar has not been to a test match in Australia since the fifth day of the match between Australia and India at the SCG two years ago.
He did, however, attend last year's T20 World Cup in Australia, which was organized and overseen by the International Cricket Council, the sport's global governing body.
His two sons were mascots during the tournament, and it was partly for them, Kumar says, that he chose to pursue his complaints with CA and Venues NSW.
"As a parent, you need to walk the talk," he adds. "For me, it's essential that they should have a better experience when they're growing up and that they shouldn't be trying harder because of the color of their skin."