When the bear licked 34 kg of cocaine! The criminal had brought the drugs to the animal, the shocking thing was learned during the investigation
A Hollywood movie was released in February this year. The name is 'Cocaine Bear'. The story is both scary and comical as a bear starts killing people by using drugs. There's a trailer for the movie on YouTube, which you'll find very interesting, but the story seems very imaginary. Is it really possible for a bear to ingest cocaine? If you also consider this story to be fictional, then you are wrong.
The story of the movie 'Cocaine Bear' (actual story of Cocaine Bear) is based on a real incident that we are going to tell you about today. This case dates from 1985. The story begins with Andrew Thornton. Andrew, a resident of Kentucky, was a narcotics police officer. But gradually he himself became a drug dealer. By 1977, he had also become a lawyer doing advocacy. With his knowledge of the law and his understanding of narcotics, he created a drug trafficking network from Colombia to America.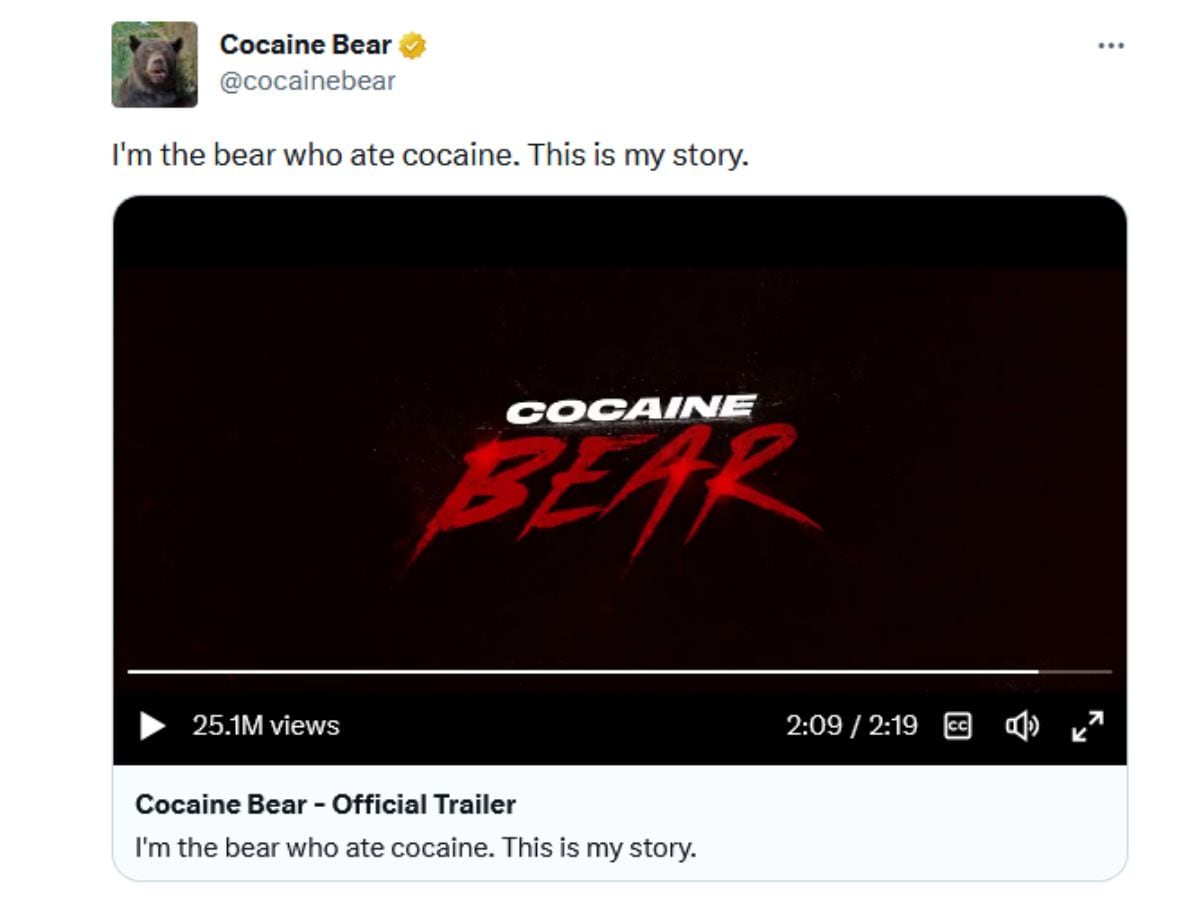 The Hollywood movie "Cocaine Bear" has been released. (Photo: Twitter/cocainebear)
The criminal had dropped cocaine from the plane
In 1981 he was accused of stealing weapons from the California Naval Base and supplying America with half a ton of narcotics. He somehow got those charges dropped and walked out after serving 6 months in prison. On September 11, 1985, he was smuggling drugs from an airplane. These drugs were imported from Colombia to America. After unloading a large shipment in Georgia, he and his accomplice moved on when they dumped 40 plastic containers full of cocaine in the woods of Tennessee. They did it because the plane couldn't carry the weight of 2 men and that much cocaine. Then both of them began to descend from the plane using a parachute. Andrew's parachute failed to open and he died. Money and weapons were recovered from them by the police.
Chewed bear 34 kg of cocaine
But his death was not a surprise. Three months after Andrew's death, on December 23, a team from the Georgia Bureau of Investigation found a dead American black bear weighing about 150 pounds in the woods. He was found with the same container of cocaine that Andrew had thrown from the plane. The bear alone consumed about 70 pounds of cocaine or 34 kg. At that time, the total cost of this amount of cocaine was more than Rs 100 crore and at present it is more than Rs 400 crore. When doctors examined the bear, they were shocked. Many surprising things came out of the survey. First, the bear's stomach was filled to the top with cocaine. However, only 3-4 grams of cocaine were found in his blood at the time of his death.
Centerpiece made of bears
Dr. Alonso of the Georgia State Crime Lab saved the bear by stuffing it with straw and passing it through many people. It is now on display at the Kentucky for Kentucky Fun Mall. The doctor said there was no such mammal on earth that could survive after consuming so much cocaine. He had had conditions such as cerebral hemorrhage, respiratory failure, hyperthermia, kidney failure, heart failure, stroke, from which he could have died. It is seen in the movie trailer that after using cocaine the bear killed many people and created a lot of commotion but there is no evidence of this in the actual incident, c is just a fictional creation of the director and the storytellers.
First read latest news in America News84Media America | Read today's latest news, live updates, the most trusted America news website, News84Media America.
Tags: Ajab Gajab news, new trends, strange news
FIRST POST: March 15, 2023
,