WHO chief Tedros Ghebreyesus warns again – the COVID-19 pandemic is not over yet
Strong points
The head of the WHO has again made a big statement regarding Corona
WHO chief Tedros said – the outbreak is not over yet
We have a long way to go against Corona – Dr Tedros
New York. Dr. Tedros Adhanom Ghebreyesus, Director General of the World Health Organization (WHO), has once again made a big statement regarding the corona outbreak. Rejecting his old claim, he said the Covid 19 outbreak is not over, but the end is visible. Ghebreyesus said there was still a long way to go to deal with Covid-19. It is known that a few days ago Tedros said in a media chat that the world has never been in a better position to end the corona outbreak, the end is now ahead. After that, US President Joe Biden announced in one of his interviews that the "pandemic is over" in America.
After that, Tedros appeared less excited when talking to the media. He clarified that being able to see the end does not mean the pandemic is over. He reiterated that the world was in the best position to end the pandemic. The number of weekly deaths continued to decline. The death rate peaked in January 2021. Now it's only 10%.
WHO chief says – there's still a long way to go
Dr Tedros Adhanom Ghebreyesus, director general of the World Health Organization (WHO), said that two-thirds of the world's population covid The vaccine was applied. Three-quarters of these numbers include health workers and the elderly. He said the world had spent two and a half years in a dark tunnel because of Corona. Now we have started to see the light at the end of this tunnel.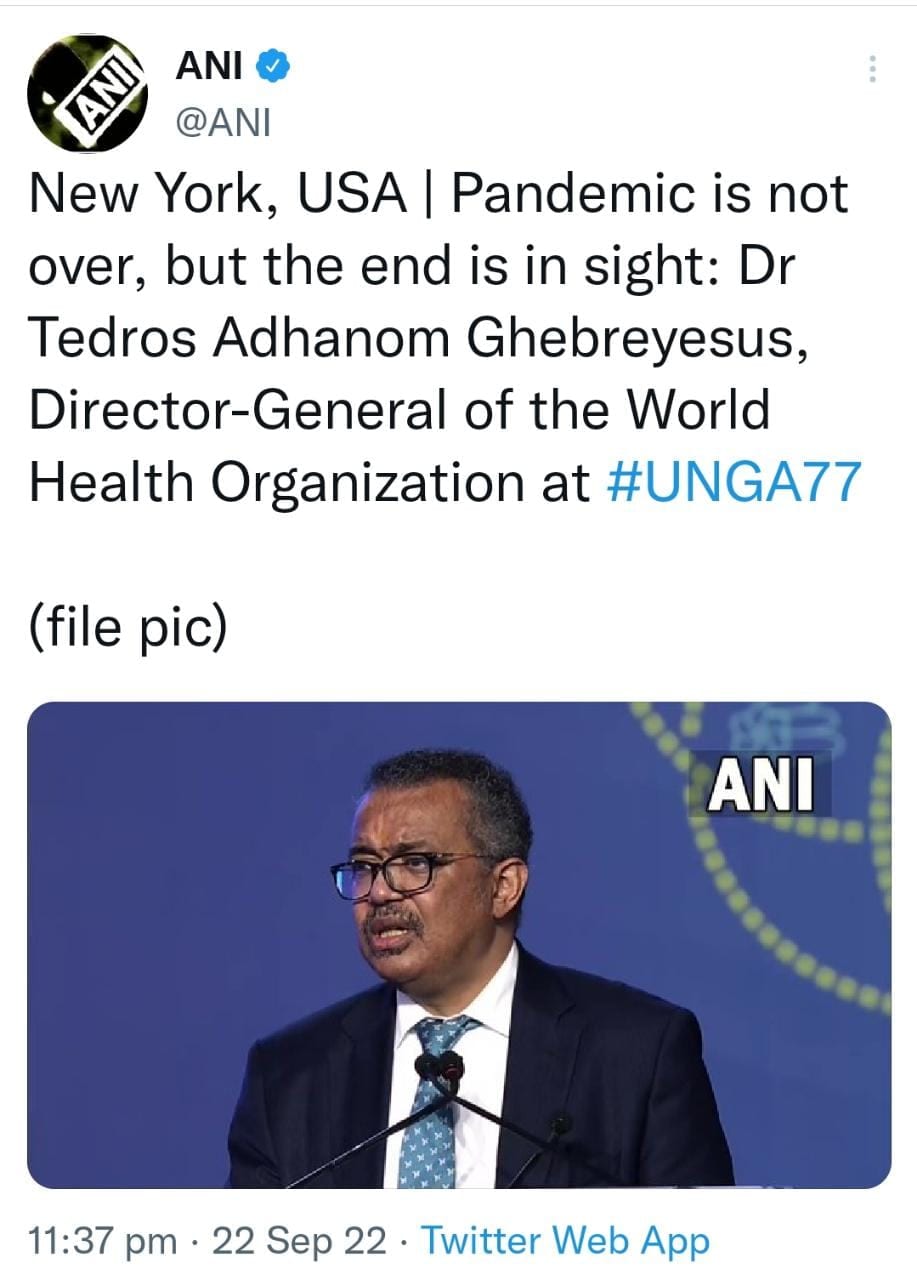 The head of the WHO has again made a big statement regarding the Corona epidemic.
Also Read: All Corona Restrictions Removed But Passengers Decreased In Delhi Metro, What Is The Reason
Chef Tedros says there is still a long way to go in the fight against Corona. He says there are many obstacles in the fight against Covid that can bother us. We must pay attention to this.
Be the first to read the latest news in America News84Media America | Today's Breaking News, Live Updates, Read Most Trusted America News Website News84Media America |
Tags: corona virus, COVID-19
FIRST POST: September 23, 2022, 1:43 a.m. HST
,